"Playing in the Sheriff was like a movie from the sixties of the USSR"
Sheriff of Tiraspol? From the Transnistrian region? The Champions League draw triggered questions about the team that Real Madrid had played and the first answers increased the intrigue even more: a rarity was going to parade through the Bernabéu, an unprecedented group in the elite, founded by a former KGB agent in a Moldovan region that is a political limbo of Europe, self-proclaimed independent but hardly recognized by anyone. The story had it all.
More information
Interview with Robert Lewandowski: "The clubs pay for a future that we do not know"
All the information about the Champions League
Coach Juan Ferrando Fenoll (Barcelona, ​​40 years old) was called from this club in 2013 and he didn't know much about him either. "My name came to them and they told me that they had spoken with people, but that the city and the place still did not inspire confidence," he recalls. "I was in the Málaga youth team and I took a risk. They were going to play in the Europa League and I thought that would give me a resume. However, when I arrived, I said to myself: 'what are you doing here?' There were many aspirations and little football base, "he explains. Nor did the surroundings, Transnistria, help soften the rough landing. "It was like a movie from the sixties from the former USSR. A very different place to be Europe ", adds the technician, who seven months later left happy and grateful for the experience.
"After you got there, you went into their sports city and you asked yourself: 'but how do they have this here? It was like Valdebebas, "says former player Aitor Monroy
The place is less than four hours by plane from Spain. It legally belongs to the ex-Soviet republic of Moldova, one of the poorest countries on the continent, but its government has no control over the area, managed since the early 1990s by a local oligarchy that made its fortune under the shadow of smuggling and trafficking of weapons.
Half a million people live there in an elongated area somewhat less than La Rioja (4,100 square kilometers), they speak Russian, they print their own currency, they display the communist hammer and sickle in their symbols, there are statues of Lenin in the squares and, After a war in 1992 between Moldova and the secessionists (supported by Russia) that left 1,500 dead, a long time ago there was calm in some streets that are still guarded by the military. This summer, football has given them the great propaganda blow: the Sheriff of Tiraspol, created in 1997 as part of the main conglomerate of companies in the region (Sheriff, a quasi-monopoly with great influence in power), qualified for the Champions League and this Tuesday he visits the Bernabéu (9:00 p.m., Movistar).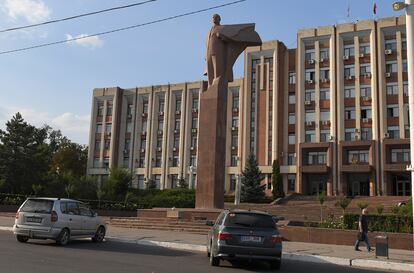 Aitor Monroy, a 33-year-old footballer from Madrid who played there in 2015, recounts the experience: "After getting there, with everything very old, you enter their sports city and ask yourself: 'but how do they have this here?' . Built in 2000, the complex is presented as the great symbol of the entity's ambition. It has a large stadium for 13,000 spectators (where the Champions League is played), a small one (8,000), a covered one for the worst winter months (3,700), eight training fields, an academy, a sports center, a sports club. tennis, a swimming pool, gyms… Monroy points out: "As if you were in Valdebebas. The facilities are spectacular ". And he assures: "Then you went to other fields in Moldova and some were worse than in the Preferente of Spain, you had to change by turns. But in this club you didn't lack anything ". He had no complaints in sports, but with the city: "There was nothing to do, two restaurants and little else."
"There was another way to live and they treated me wonderfully. They were very respectful people ", recalls the ex-Betis Melli
The former Melli (Barbate, Cádiz; 37 years old), already retired, passed through there with Juan Ferrando in 2013/14 and took the differences with philosophy. "There was another way to live and they treated me wonderfully. They were very respectful people, "he says. "We were in a restaurant and you didn't even hear the fork hitting the plate. At first they seem distant, but then they are very warm. Communication, yes, it was difficult because nobody spoke English ", completes the Barcelona coach. The experiences of the few Spaniards who have paraded through this remote place have been good, with some exceptions, however, who declined to offer their testimony for this report.
In Transnistria, soccer is by no means the most popular sport. This is how Ferrando explains it: "In my time there were 100-150 spectators on a normal league day. What they liked the most was weightlifting and wrestling. Soccer could be like canoeing in Spain, which is only of interest in the Games ". But that moment of maximum attention has come with this Champions League. Absolute dominator in Moldova (winner of 19 of the last 21 Leagues), it still lacked to enter the elite. This is what Valery Pavlichenko, responsible for scouting of the Sheriff until 2015 and now the owner of a players agency: "It was the great goal, for that good training fields and stadiums were made." It was not easy: "10-15 years ago, nobody knew about the club. But from the first participation in the Europa League in 2009 (with Juan Ferrando; then three more came), it was already easier to convince players because it was a good opportunity for them to show themselves ". He says that the Champions League will be a window to show the world that in Tiraspol "not everything is how people think".
"The president called me every day and asked me, for example, why he had put the defense so high. He is like a father to me ", confesses coach Juan Ferrando
And behind it all is Viktor Gushan, a former KGB agent, the head of the Sheriff network of companies and the highest representative of that local oligarchy. Aitor Monroy warns: "He came to the games under guard." And Juan Ferrando third: "I can only speak well of him, he is like a father. I came there as an assistant to a Belarusian and after 20 days he proposed to be first. I don't know what would happen. I thought I would have to go too, but he offered me the position. He was very clear and asked me for results. He called me almost daily and asked me questions. Why had he put the defense so high, for example. I answered him, without more ". The Catalan coach did notice the political tensions. "When we went to play in the capital of Moldova, Chisinau, you saw that there were more people, more flags, more verbal attacks. I remember that we beat Dacia 1-3 and the next day its president killed the coach, the goalkeeper, all the defenders and two or three forwards ".
The experience of this adventurer from the benches, today in India, ended in December 2013. "They claimed that we had not passed the group stage of the Europa League. But hey, that was unfeasible. The truth is that the Russia-Ukraine war had started, the political situation was complex and I also had an option in Greece, more relaxed, "he says. That team from that unique place has grown older. He beat Shakhtar on the first match and this Tuesday he stands at the Bernabéu in the game of his life and with the most captivating history of the Champions League.
You can follow EL PAÍS DEPORTES in Facebook and Twitter, or sign up here to receive our weekly newsletter.