Kárpov: "The Internet has given chess a 2nd life"
Anatoli Karpov has been serving journalists for more than half a century (he is 70 years old), signing autographs, posing for photos with fans, attending authorities… But he continues to do so with taste and good manners. Today, in Vigo, where tomorrow he will play an exhibition game with the mayor, Abel Caballero. With journalists, he highlighted the importance of the internet for chess: "About 600 million games are played per year. It is the 2nd life of chess, and it will be very long ".
Signing almost 400 autographs in two hours, as the former champion did this afternoon at the Travesía shopping center, would be exhausting for anyone. But his right hand is highly trained: in 2006, in Mexico City, he set a Guinness record by initiating 1,951 (his year of birth) copies of his biography written by the Spanish journalist and photographer David Llada. In Vigo he has cared for children for whom Kárpov is a living legend, men and women who idolized him in his childhood and then left chess, unconditional followers who see a dream fulfilled and the curious who are never lacking. The latter abound now more than ever, because the pandemic and the series Lady's Gambit They have produced a tremendous chess boom around the world.
"In Russia too. Sales of games, pieces and books have grown more than 50% ", he explained in the morning, always attentive to clarify or correct the translator, because Kárpov understands Spanish a lot, although he hardly ever speaks it. And he has added precise data: "In the last 50 years there have been three moments of great boom: the Fischer-Spassky duel of 1972 and mine against Korchnoi. [1978 y 1981] and Kasparov [1984-1990], but especially the one in Seville [1987]. During the pandemic I have visited ten countries and I have been able to see this increase in popularity in all of them ".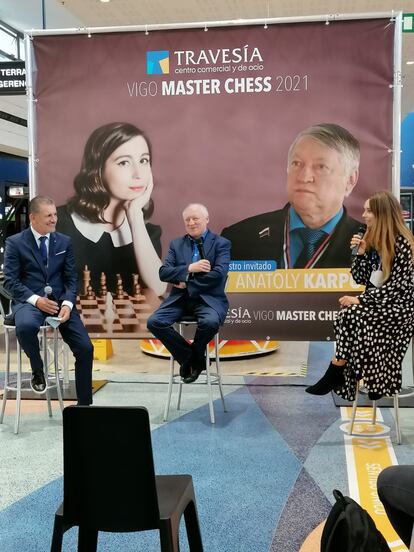 In a subsequent conversation with EL PAÍS, the multi-champion of the world has stressed the importance of chess in the networks, although with certain nuances: "It is true that the risk of cheating increases, but the benefits outweigh much more. Now, once the pandemic is over, I think that the world-class tournaments should be face-to-face, not online, because if the psychological struggle, which is a fundamental component, is not almost completely lost, and also the social contact in the tournaments, which we have enjoyed so much ".
The time when chips are inserted into the brain does not seem far off; for example, to monitor health. Therefore, it will also be possible to insert the computer programs that play better than the world champion: "Yes, that may force the referees to include a detector and disconnector for those gadgets in their work instruments. It is also said that a quantum computer, when they exist, will be able to play chess perfectly. But I think none of that will end human chess. "
This conviction is sustained because, according to Kárpov, chess brings many very useful values ​​and qualities in the 21st century: "Many ideas and knowledge are better transmitted through chess than through mathematics. In addition, it is very useful to know how to make decisions and defend them. And to manage time. My experience indicates that when parents and educators know its enormous pedagogical potential, they are in favor of its implantation in the educational system, which continues to grow on all continents. In the city of Tyumen [Siberia occidental], which I represent as a deputy in the Russian Parliament, its 350 schools will have chess twice, during school hours and after school hours ".
Subscribe to weekly newsletter 'Wonderful play', by Leontxo García