Real Madrid came out against Granada at the Bernabéu with a surprising eleven, especially up front. Without Benzema, injured, the logical option was Luka Jovic, the squad's substitute striker, but the Serbian remained on the bench, as had happened days before in San Mamés, against Athletic in the Cup. That day, the site center forward went to Asensio, who was later replaced in the second half by Isco. And against Granada, the man chosen to start was the man from Malaga, to act in a false nine role in which he performed quite well.
In 65 minutes, Isco made a shot on goal (a volley with his left foot that came out centered, but that had poison), he was brilliant in the pass (30 good out of 33), he won five of nine duels, gave three potential goal assists (the best, one for Asensio that Maximiano stopped) and recovered a ball. In general, he left the feeling that he can work in that position, for which he lacks physical presencebut he has plenty of technique and mischief to be noticed between the lines.
The last two games have been a declaration of intentions by Ancelotti, who has preferred to shoot Isco rather than Jovicdespite the fact that the situation of both players is quite different: the Andalusian ends his contract in less than five months and will be able to go free, while the Serbian cost 60 million euros only three and a half years ago and has a relationship with the club until 2025. Madrid's future plans do not have either of them, but the best option at club level would be for Jovic to play and show qualities to attract the attention of potential buyers. But Ancelotti thinks differently, he puts Isco ahead.
Isco and Ancelotti have 'feeling'
In these circumstances, a happy ending for the joint story of Isco and Real Madrid is not ruled out, a story that started in the summer of 2013 and that has had two Leagues and four Champions, among many other titles, being the Andalusian important in all the trophies, especially in the Champions League finals: he played two as a starter and in the other two he came out as a shock. If the one from Arroyo de la Miel manages to become important, either as a false nine or as an attack player (in the 4-3-3, it is difficult for him to enter the middle due to his lack of deployment in defense), he will have the opportunity to leave Madrid after nine years showing off his qualities and, in addition, attracting potential teams for the future. A happy ending that will have nothing to do with that of Bale, who has been missing for years at a sporting level.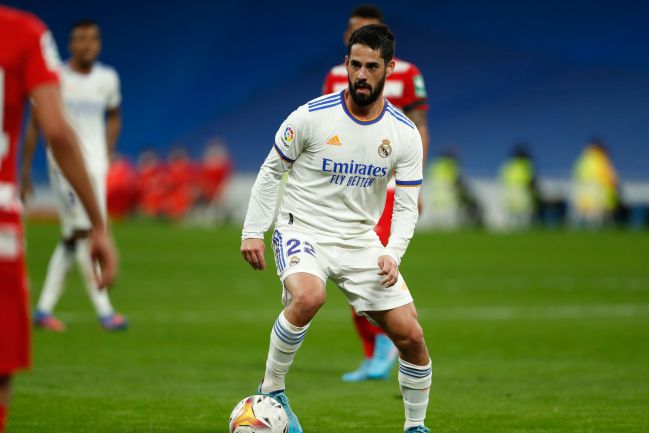 Isco, with a salary of 14 million gross per season and who has scored two goals in the 342 minutes he has played this season, you already know that your path in Madrid ends on June 30. His performance in recent seasons has declined and the club needs that salary gap for the operations that he prepares in the summer (Mbappé and Haaland, mainly, although they are not the only ones). Ancelotti will not get involved in the club's politics, if it were up to him he would accept that Isco would continue in his squad, since his affinity with the Andalusian is good and he values ​​his qualitiesbut both get used to the idea that these are the last months they will share together in Madrid.